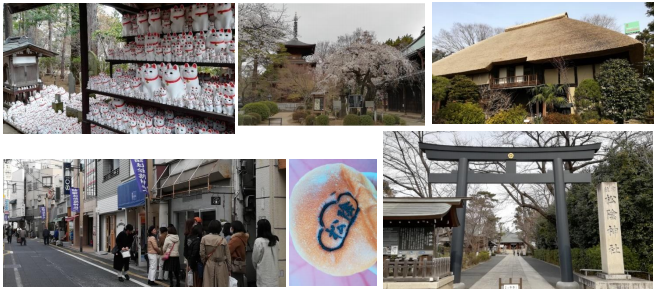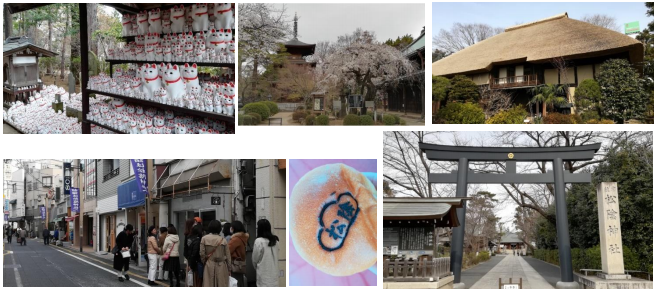 Do you know a maneki neko, or the beckoning cat? A maneki neko is believed to bring luck to its owner. So you can see it many places all over Japan, but especially in front of Japanese restaurants because the owner hopes that a manekineko attracts lots of customers.
Gotokuji Temple was founded in 1480 and once a family temple of a local lord Ii. This Temple is now a popular tourist destination because of a huge number of the cats. It is believed that if you give a maneki neko back to Gotokuji Temple after your wish comes true, more luck will come to you.
In this tour, you will also see a historic building with its thatched roof and enjoy Japanese everyday food in a shotengai, or shopping street, followed by a visit to a shrine that brings you luck in scholarship.
What you can
Visit a temple and see photogenic beckoning cats.
Visit a historic building with its thatched roof, designated National Important Cultural Properties (closed on Monday).
Walk around an old shotengai shopping street and pop into unique little shops.
Pray at a shrine known to bring luck in scholarship.
Spots we visit
Gotokuji Temple
Setagaya Local Governor's Residence with thatched roof in Edo Period
Shoin Jinja Dori Shotengai Shopping Street
Shoin Jinja Shrine
Notes
Please come in comfortable shoes as we walk a lot.
Lunch is not included, but you can stop for a break and eat whenever and wherever you like.
Expenses NOT included.
Departure Time
You can choose the time from 9:00 am to 1:00 pm
Meeting Point
The ticket gate at the ODAKYU line, GOTOKUJI Station
Ending Point
Same as the meeting point
Price
16,000 JPY for 1 to 3 persons
18,000 JPY for 4 to 6 persons