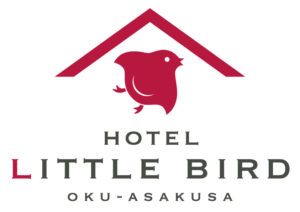 8 minutes to center of Asakusa, 10 minutes to TX Asakusa station, 15 minutes to Iriya station, 20 minutes to Metro Asakusa station / Tawaramachi station, 25 minutes to JR Uguisudani station.
You can enjoy Asakusa freely, transportation to other cities also convenient.
This room has independent mini kitchen, shower, toilet, perfect for short stay of family and friends.
Host is always in the hotel, can guide you to various Tokyo restaurants and sites.
Cozy town, convenient place, vintage style design hotel. please enjoy Asakusa and Tokyo!
5 uniqueness of HOTEL LITTLE BIRD OKU-ASAKUSA
Reasonable! – 4 guests can stay in a room. More guests stay, less price per person!
Mini kitchen equipped! – good for long stay, party! we have 20% discount for weekly stays, 50% discount for monthly stays!
All corner rooms! – one room in one floor. Guests can keep high privacy.
Good access to subways! – many stations can be reached on foot. Convenient for Tokyo / Asakusa sightseeing!
Owner's hospitality! – Unique owner will be your concierge!
浅草の喧騒から少し離れた静かな環境に佇む、全4室の小さなリノベーションホテルです。
建物自体の味わいを活かしたヴィンテージスタイルなデザインが特徴です。
ホテル リトルバード 奥浅草の 5つの特徴!
①リーズナブル! 4人まで宿泊可能。多人数で泊まればお得です!
②キッチン付! 長期滞在やパーティーにも最適!(長期滞在割引あり)
③全室角部屋! 各階1部屋のみの高い独立性!プライバシー重視の方にもおすすめ。
④アクセス抜群! 地下鉄などの3路線3駅が徒歩圏内! 東京観光・浅草観光に最適!👉
⑤オーナーのガイド! ユニークな経歴のオーナー自ら、思い出に残る旅をご案内!👉
---
Host
Tetsuro Kojima 小島 哲郎 
National government licensed guide interpreter (English / Chinese) 全国外文导游资格(中文)
Domestic Travel Coordinator
Languages: 中文, English, 日本語
全国通訳案内士 (英語・中国語) 登録番号 (東京)第EN05686号 / 第CH00904号
国内旅行業務取扱士
Hello, I am Tetsuro Kojima. living in Bunkyo-ku, Tokyo, Japan.
I can speak fluent English, acquired Certificated English Travel Guide license.
I like traveling and I am writing "Day Trip from Tokyo Guide" blog.

你好, 我是Tetsuro, 请多关照!
我以前在北京工作过, 会说中文, 非常欢迎中国朋友们。
期待与各位游客交流, 谢谢!
横浜出身。前職の広告代理店にてメディア、営業などを歴任。8年ほど中国駐在経験もあり。
民泊経営を経て、2019年12月奥浅草に小さなリノベーションホテルを開業しました。
趣味は東京からの日帰り旅行とカラオケ。好きな食べ物はラーメン。
好きな球団は横浜DeNAベイスターズです!
Born in Yokohama, formerly worked for an advertising agency, experienced account service, media planner and global business director. worked in Beijing (China) for 8 years.
After experiencing host of home stay, opened a hotel in Asakusa in December 2019. Hobby is day trip, Karaoke, Ramen, watching baseball!
出生于横滨, 从事过广告公司, 经验过营业, 媒介计划和国际业务总监。从前在北京工作过(所以会说中文)。在2019年12月开业了酒店。我的喜好是一天旅游,唱歌(KTV),吃拉面,看棒球!
---
License or registration number
Hotels and Inns Business Act | 東京都台東保健所 | 31台台健生環き第10200号
Design & Architect Staff
デザイン監修:川村貞知(Sadatomo Kawamura Design)
建築設計監理:加藤太一(REI一級建築士事務所)
建築施工:倉持悟(KRA)
サイン施工:森北二郎(アトリエ・ムーブ)
建築写真:石塚定人(石塚写真事務所)

運営会社:合同会社リトルバード / Little Bird Group
代表:小島哲郎
外国人旅行者、労働者、留学生を全力でサポートします!
One stop support service for foreign travelers and residents
旅館業・ガイド業・不動産業・行政書士事務所
hotel / travel guide / room offering / legal administrative office
official website(Little Bird Group)