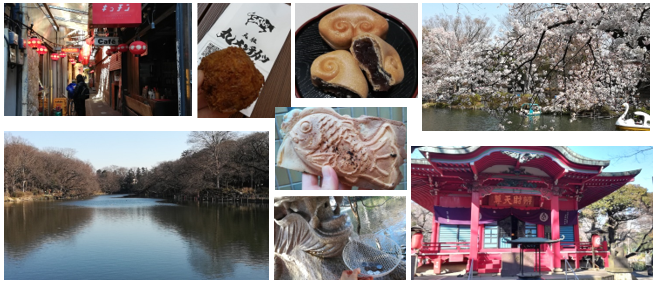 Why don't you walk around Kichijoji, which often tops Tokyo's most-desirable-place-to-live list. In this tour, you can enjoy walking around interesting Harmonica Yokocho and vast and lovely Inokashira Park.
Harmonica Yokocho, or Harmonica Alley is named for the way in which tiny stretch of crisscross with restaurants, shops and bars resembles harmonica reeds. There are variety of tenants such as cozy restaurants, traditional sweets shops, fresh fishmonger shops, clothing stores, and so on.
Inokashira Park located at the center of Kichijoji has a sprawling area of green grass, woodland, a large boating lake, and the brilliantly red Benten Shrine.
What you can
Walk around Harmonica Alley, enjoy Japanese everyday foods and pop into unique little shops.
Enjoy the vast green space at Inokashira Park, and cherry blossom viewing in late March to early April.
Rent rowboats or swan pedal boats at Inokashira Pond.
Pray at a shrine known as good fortune in marriage and safety against natural hazards, and so on.
Purify your money with water at Inokashira Benzaiten to pray a big fortune
Spots we visit
Harmonica Alley
Inokashira Park
Inokashira Benzaiten, Sarasvati (7:00 am ~ 4:00 pm)
Notes
Please come in comfortable shoes as we walk a lot.
Lunch is not included, but you can stop for a break and eat whenever and wherever you like.
If you have any food allergies, please let us know in advance.
Expenses NOT included.
Departure Time
You can choose the time from 10:00 am to 1:00 pm
Meeting Point
The central ticket gate at the JR CHUO line, KICHIJOJI Station
Ending Point
Same as the meeting point
Price
14,000 JPY for 1 to 3 persons
15,750 JPY for 4 to 6 persons